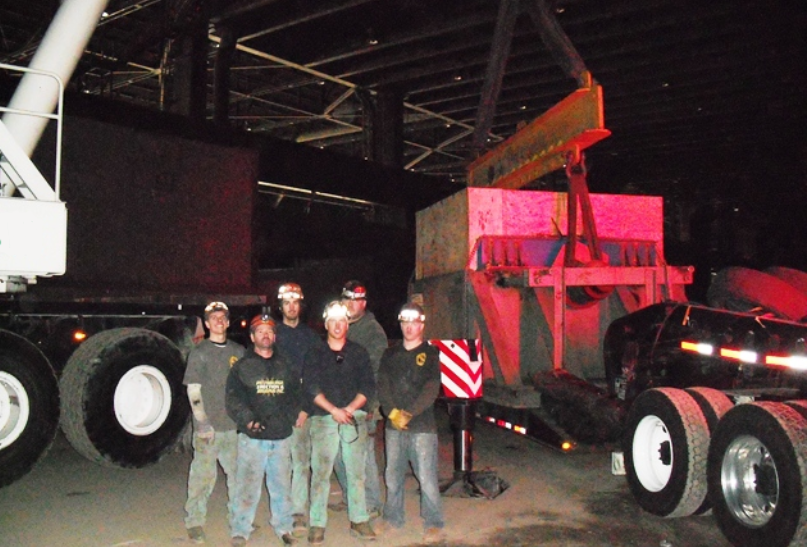 When it takes extraordinary muscle and experienced manpower to get the job done, call on the services of Machinery Rigging, Inc.
Based in Pittsburgh, Machinery Rigging Incorporated is a turnkey operation with full-service machinery moving and industrial relocation capabilities. Thirty years of service and a broad customer base gives us the confidence to handle any challenge, and the experience to serve you well.
Our Equipment Fleet can transport anything from a 1000 ton press brake to a 30,000 gallon oil tank. We have moved entire temper mills, from desk chairs to pinch rollers and shears.
Call us today at 412-823-8890, or use our easy-to-complete contact form.
Costs, Efficiency, and Safety
Your concerns are our concerns.
Can you move it and move it safely?
What will my downtime be?
Can we afford to have this done right, by Pittsburgh's best?
When moving equipment, our primary focus is cost and plant shut-down time, while our overarching concern is safety.
The only way to do our job properly is to make the entire operation work for you on every level, from affordability to a smooth restart once all the equipment is in place and ready to go.
Our goal is to build a long-term relationship by offering a smooth turnkey operation that you'll rely on again and again.
Contact Us Today
For affordable, experienced millwright and rigging services, call 412-823-8890, or complete our contact form today.