Moving and Rigging
When moving equipment, our primary concerns are cost and plant shut-down time.  With over forty years experience in the millwright industry, Machinery Rigging, Inc. has the know-how to minimize downtime and costs while maintaining an excellent safety record.
Learn more on our Moving & Rigging Machinery page.
Equipment Fleet
We utilize our specialized equipment to assist in the hauling of various types of machinery and uncommon loads.  Our fleet includes tilt-bed (rollback) trucks, tandem and tri-axle tractors, lowboy, drop-deck, flat, tilt, stretch, oversize tank trailers, and more…
Learn more on our Equipment Fleet page.
Turnkey Operations
From disassembly and machinery repair to transportation, preparing the new site, machinery painting and hookup, we do it all.  Our job is done when you fire up your machine and it comes to life like new, all with less downtime and less cost than you imagined.
Learn more on our Turnkey Operations page.
Electrical & Concrete Work
Save the hassle of hiring multiple companies to handle the disciplines of electrical and concrete work.  Our diverse skill set includes complete service, these are: high-voltage machinery hookups and preparing the foundation for concrete slabs that will last for generations.
Learn more on our Electrical & Concrete Work page.
Serving Industries in the Pittsburgh and Tri-State areas
At Machinery Rigging, Inc., we serve a wide variety of industries, including but not limited to:
• Steel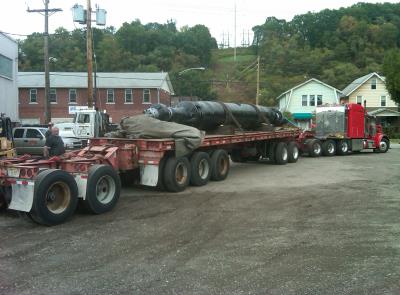 • Petroleum
• Marcellus Shale
• Natural Gas
• Plastics
• Machinery Dealers
• Machining Technology
• Aerospace
• Biogas & Biofuel Plants
• Food & Beverage Facilities
• Power Plants
• Electrical & Energy
• Chemical
• Paper
• Automotive
• Municipalities
• HVAC
• Schools & Universities
• Freight Forwarders
• Manufacturing & Fabrication
• Printing
• Construction
• Medical Imaging/Pharmaceutical
Contact Us Today
For affordable, experienced millwright and rigging services, call 412-823-8890, or complete our contact form today.